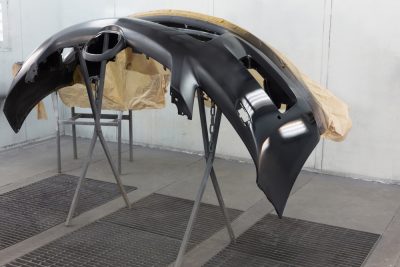 Whether you've been in a parking lot fender-bender or you're walking away from a major accident, it's important to consider how your vehicle is impacted by damage. Damage to the frame, panels, bumpers and more can affect everything from gas mileage to vehicle value, which makes visiting an auto body shop in Seagoville, TX paramount.
At Vic Hopkins Paint & Body Shop, we're standing by to help you reverse the damage to your car's body. We welcome a full scope of damages and have the shop and personnel to remedy them all! Our capabilities include:
Collision Repair
We operate a full-service collision center in Seagoville, TX, meaning we can deal with any and all collision damages. From dented panels to frame repair and beyond, we're here to restore the integrity of your auto body to its fullest.
Bumper Repair
Crunched bumpers and those that are hanging on by a thread are no match for our team! We'll repair or replace your bumper to restore the aesthetic of your car, so you can get back on the road quickly.
Dent Repairs
Got door panel dings? Dents in your hood? Impressions on your roof? Whatever the nature of the dent or the size of the area, we offer quick and easy dent repair.
Painting for Repairs
We do not paint vehicles completely, however we are adept at painting repair areas, to ensure the full and complete restoration of your auto after an accident.
Insurance Work
Vic Hopkins Paint & Body Shop is proud to work with any insurance company when it comes to repair work. We'll help you navigate the claims process, so that work can begin promptly on repairs and you know exactly what you'll owe. Speak with one of our seasoned team members today if you need help getting started.
Don't drive around with a dented door or a crushed bumper as a constant reminder of your recent accident! Let the team at Vic Hopkins Paint & Body Shop restore your auto body to perfection. Contact us today by calling 972-287-4370.