The best way to finish an auto body repair is to apply the perfect paint job. The right paint, applied with precision, will hide any evidence there was ever damage to the vehicle. At Vic Hopkins Paint & Body Shop, we take the time to paint finished repairs to perfection, restoring your vehicle's appearance to a like-new quality.
Paint for Auto Repairs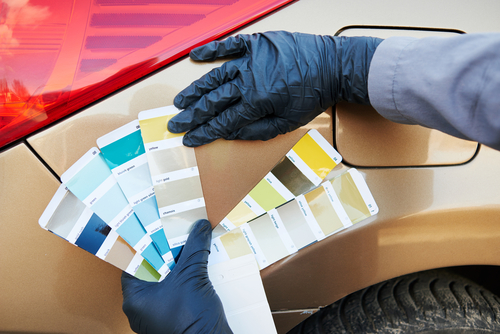 From deep dents to collision repairs, we offer automotive painting in Seagoville, TX as a finishing service for any repairs we do. It's our mission to provide customers with unparalleled results, which means finishing the repair process with a pristine paint job.
Please note that we do not offer general auto painting services. We only offer painting in tandem with our repair services.
Color Matching Services
The most important part of a good finishing paint job is color matching. Our auto paint shop in Seagoville, TX is equipped with the tools and resources to match the existing color of your car perfectly, so that any new paint is blended seamlessly. When we're finished painting, the repaired area will be indistinguishable from the rest of your car thanks to our precise color-matching capabilities.
Thorough, Detailed Service
Also important in the painting process is the application of the paint itself. We apply paint with precision and evenness, to prevent problems that can occur in bad paint jobs, such as color difference, texture issues or reflection problems. Our paint jobs are done to perfection, because we take the time to do them right.
If you have dents, frame damage or blemishes on your car that need to be repaired and painted, trust the professionals at Vic Hopkins Paint & Body Shop. We'll put in the time and effort to provide you with accurate, precise, quality work. From the repair to the final paint application, we strive for perfection. Schedule your repair and paint appointment today at 972-287-4370.