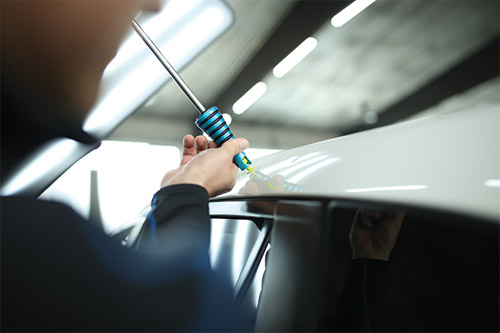 It doesn't matter if you just drove your car off the lot or you've owned it for years: dents can happen at any time. If you're saddled with a dent on your door panel, roof, hood or anywhere else, let the professionals at Vic Hopkins Paint & Body Shop take care of it swiftly and thoroughly. No matter the size or nature of the dent, we'll make it disappear.
We approach dent repair in Seagoville, TX with an eye for thoroughness. This means restoring your vehicle's façade to perfection, void of any blemishes, indents or scratches. Some of the types of damages we frequently deal with include:
Hail damage/dents
Accidental impact dents
Small scratches and blemishes
Whether your dent occurred mysteriously or you watched it happen, know that you can come to us for dent removal in Seagoville, TX.
Paintless Dent Removal
For many dents, we can provide complete repairs without having to invasively correct them! Our paintless dent removal process allows us to "pop" dents back out without the need for paint. This ensures quicker repairs, lower costs and better turnaround times for you. We can evaluate your dents to see if they qualify for this process.
Repairing Any Dent
From runaway shopping cart dents to accidental door panel dings, we've got you covered when it comes to dent restoration. Whether your dent is superficial or it goes all the way down to the metal, count on our experienced team to remedy it completely. When we're done, you'll never be able to tell there was ever a blemish to begin with!
If you're tired of looking at a dent on your car, contact Vic Hopkins Paint & Body Shop today and schedule an appointment for dent repair. We can be reached at 972-287-4370 and will be happy to consult with you about the right course of action for eliminating any dents on your vehicle.